The Lineare Collection is here! We've got some tips and tricks on styling your jewellery from our amazing designer, Charlotte.
Your top tip?
It's all about balance. I wear a lot of jewellery when I'm heading out for an occasion and love to stack bracelets and bangles, I think it's such a strong, stylish look. Pieces that you know you can wear together are my all time favourites, this is what I tried to achieve with The Lineare Collection. They're strong stand alone pieces, but can be layered when you're feeling like it.
They say keep the metal the same, what's your thoughts on this?
It depends on the occasion although generally I don't like setting rules on mixing metals. I really like mixing silver and yellow gold, the colours complement each other nicely. Another nice combo is silver and rose gold but if you're smart with your choices, you can mix all three and still rock it.
What goes with what in your opinion?
I'm pretty no nonsense with jewellery. I usually opt for one statement piece or a few minimal pieces. When I was planning The Lineare I knew I wanted to do a matching necklace, bracelet, ring set - for each piece to be a very similar shape. I really wanted each item to be special enough to be worn on its own, but minimal enough to be worn together with an everyday outfit. I couldn't be happier with how they turned out.
Are there any big no no's?
For me personally, if you're wearing bold earrings I'd skip wearing a necklace. A bare neckline makes your earrings pop even more!
Less is more. Agree or disagree?
Completely depends on the occasion. I'm quite the minimalist nowadays when it comes to my look so I don't like to overdo it. I think you can go crazy with your accessories providing you've got a super simple outfit on and they compliment each other. However, if you're wearing a pretty bold dress, for example, I'd say keep your accessories to a bare minimal. A killer look is sometimes to go totally naked with accessories if your outfit speaks for itself.
Can you have too many rings?
It depends on the style and size of the ring although I love it when I see a girl with lots of rings on; I feel like it brings so much personality to a look (I always think back to Phoebe in Friends and how she used to rock wearing a ring on each finger!) but that's me. I love styling the Lineare Ring by having 2 on different fingers on one hand in two different colours, I think it's such a strong look! The Lineare rings would look great styled with some thin band rings too to give a contrast.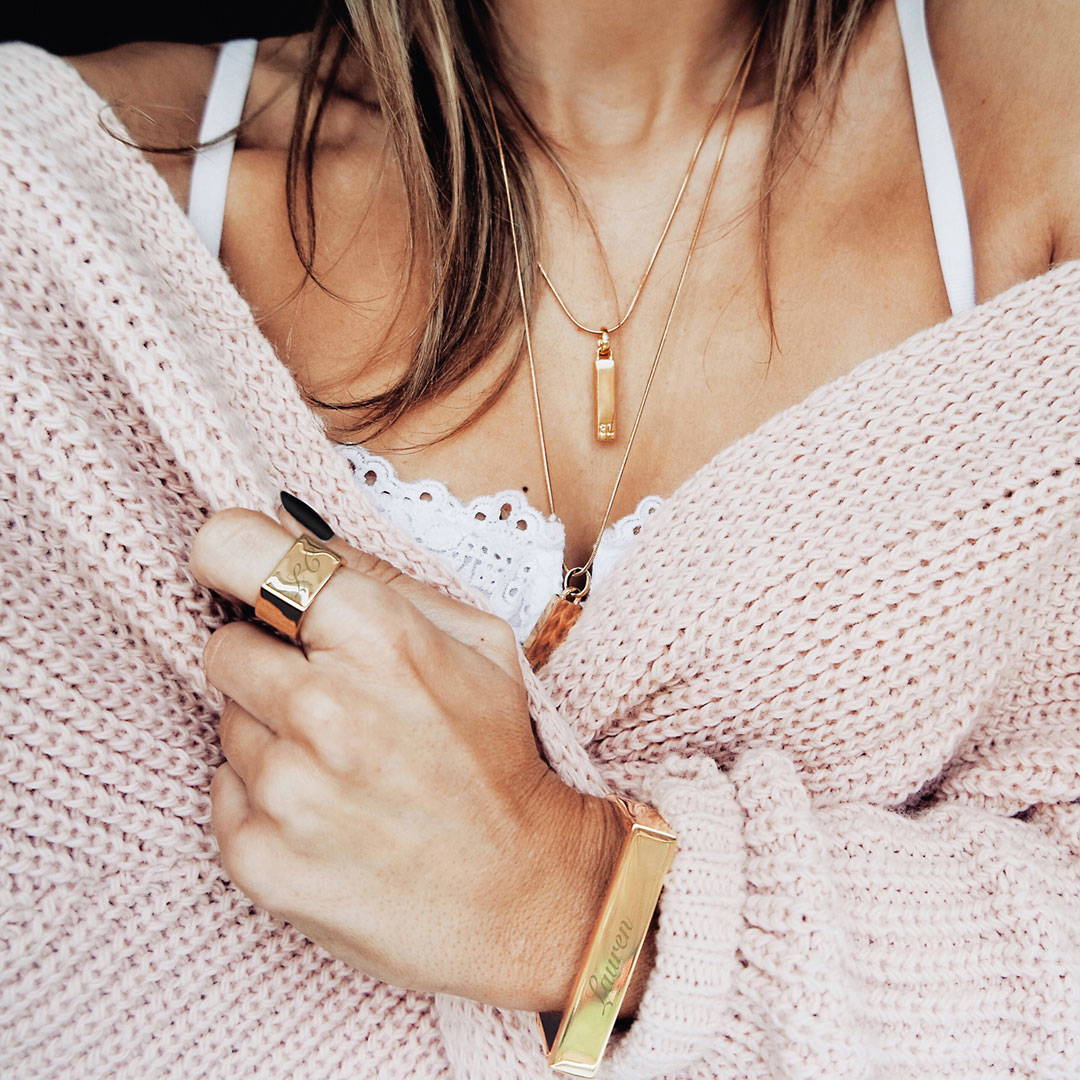 What's your favourite layered look?
I'd say, the small Lineare pendant necklace layered with the large gold pendant. Then a gold or silver bangle, both if you're feeling bold. Finish it off with a statement lineare ring added with a few small band rings of your own. Add these to a minimal outfit, neutral colours (I love black!) and of course, have it all engraved to make your style even more personal.
Is it best to go for a minimal wardrobe if your layering your jewellery?
It's subjective but I'm such a minimalist when it comes to fashion. I love pairing a simple top or shirt with a bold necklace. I think of jewellery as my armour and not my clothes. Accessories is what takes any outfit to the next level. You can be wearing the plainest tee with a pair of good fitting jeans but when you add those killer accessories, you're ready to go anywhere.